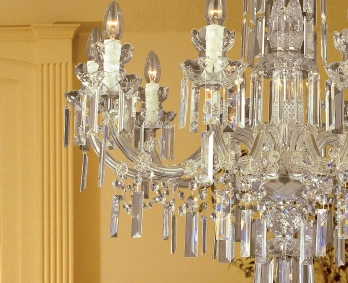 Crystals
To better satisfy your exigencies of elegance and quality, we dress our chandeliers with the best crystals available on International markets.
When Bohemia was part of Austrian-Hungarian monarchy became the heart of crystal industries because of its rich natural reserves. From the end of the second worlds war the leading crystal manufacturers realize the best quality crystals for our chandeliers.
The sublime raw material as optic crystals and a glass of high quality with the exceptional transparency combined to the skilful hand labor. A manual ability and an experience in the production that Arlati always selected in his years of experience to give you the best in the crystals production.
SCHOLER CRYSTAL® for the pressed, half-cut, cut and lead crystals
SWAROVSKY ELEMENTS® for the Elements line